20 Useful Sales Prospecting Tools in 2022
We have gathered 20 of the most useful and highly rated B2B sales prospecting tools.

B2B prospecting is an integral part of your business growth – the benefits of a well-thought-out approach and an optimized sales funnel can't be underestimated. The successful turnout of your sales and conversion rate of prospects depend heavily on the prospecting strategy you're applying and whether you have the right tool stack to fulfil prospecting tasks.
With the help of a B2B prospecting tool – a software designed to fast-track and automate the prospecting process – you'll save time and boost your sales significantly. Such tools, primarily, provide identifying information on potential customers such as contact details, info about the company, etc.
It can be daunting to sort out the right tool for your goals among the multitude and variety of ones available, so compiled in the list below are the best-rated and functionally abundant solutions.
What are the benefits of a B2B tool?
Relying on inaccurate and outdated data slows down your workflow substantially – salespeople who don't make sales process optimization a priority suffer from time inefficiency, only spending a fraction (roughly 20%) of their time actually selling. This is where B2B prospecting tools come in handy – automatically organizing a sales pipeline and streamlining potential buyers through your sales funnel, leaving you just the closing strategy.
What are the best B2B prospecting tools?
We have gathered 20 of the most useful and highly rated B2B sales prospecting tools. The list is as follows:

LeadRocks
Leadrocks is one of the easiest tools that provides basic but powerful features: finding contact info of your audience based on the results of your search & enriching your existing base with emails. If you have a list of prospects' LI profiles URLs, you can upload it into LeadRocks and it will find emails for you.
Filters available are location, company name or URL, team size.
LeadRocks is considered the tool of unrivalled data accuracy. Useful if you already have a hold of the LinkedIn URLs you want to go after and just need their emails. So, basically, it's a data enrichment tool + contact database.
2. Closely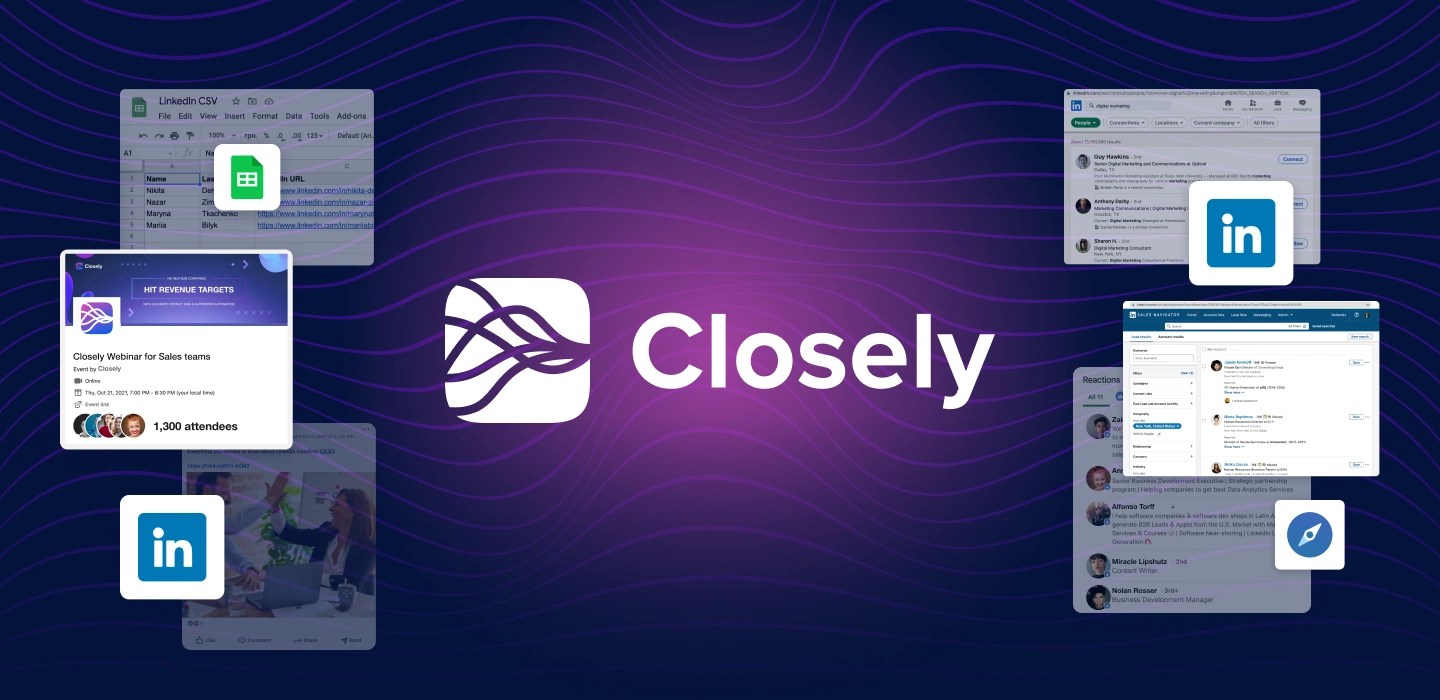 Closely is not only a prospecting automation platform, it's a sales intelligence platform intended to streamline prospecting and generate new revenue for teams of any size.
Key features:
Detailed and accurate contact database (Closely Explorer)
Targeting and segmentation
LinkedIn outreach campaigns' automation
Smart Embedded Inbox with CRM's features
Scraping people from groups, comments or events
Invite-by-email campaign type automation
Closely is very easy to use and it comes with a very intuitive interface. It also has a thriving community.
3. ZoomInfo
ZoomInfo, an American data intelligence platform, offers its users access to individual professional and company profiles, doing so with the help of machine learning and adept data researchers.
This tool is also great for fast tracking prospects and leads through your pipeline, helping you connect with the right people. G2 users especially find this software helpful, as the accuracy and relevance of its emails and mobile numbers are virtually unrivaled.
The tool has a Chrome extension, presents users with bidstream data and is CCPA compliant.

4. Cognism

Cognism is a UK-based software company that has made a name for itself as one of the most innovative, data-accurate sales tools on the market. The platform sieves out the people most likely to make a purchase of your product, takes the geo- and demographic data into account, providing you with a cohesive prospect profile with exceptionally accurate contact information.
Their global and European coverage are thorough and have earned praise among mid-market, SMB and enterprise users.
GDPR compliance is also a key role to Cognism.
5. Lusha
Lusha is yet another B2B prospecting tool that is highly valued for its data accuracy and completeness (emails, contacts, etc.) as mentioned in many G2 reviews. It comes in the shape of a Chrome extension and cloud-based app and is CCPA compliant and GDPR aligned, making it a trustworthy, transparent tool.

6. Closely Surfer

Closely Surfer is a free Chrome extension with decent worldwide coverage. Data you're able to find with it on LinkedIn is phone numbers, emails, company information.
Closely Surfer is unrivalled in retrieving accurate contact information, as well as providing shortcuts for manual leadgen tasks like downloading the result of a search as a CSV file or withdrawing pending connection requests in bulk. The greatest part is, of course, that it's free. But also quality of ongoing product support, community, ease of use.

7. Clearbit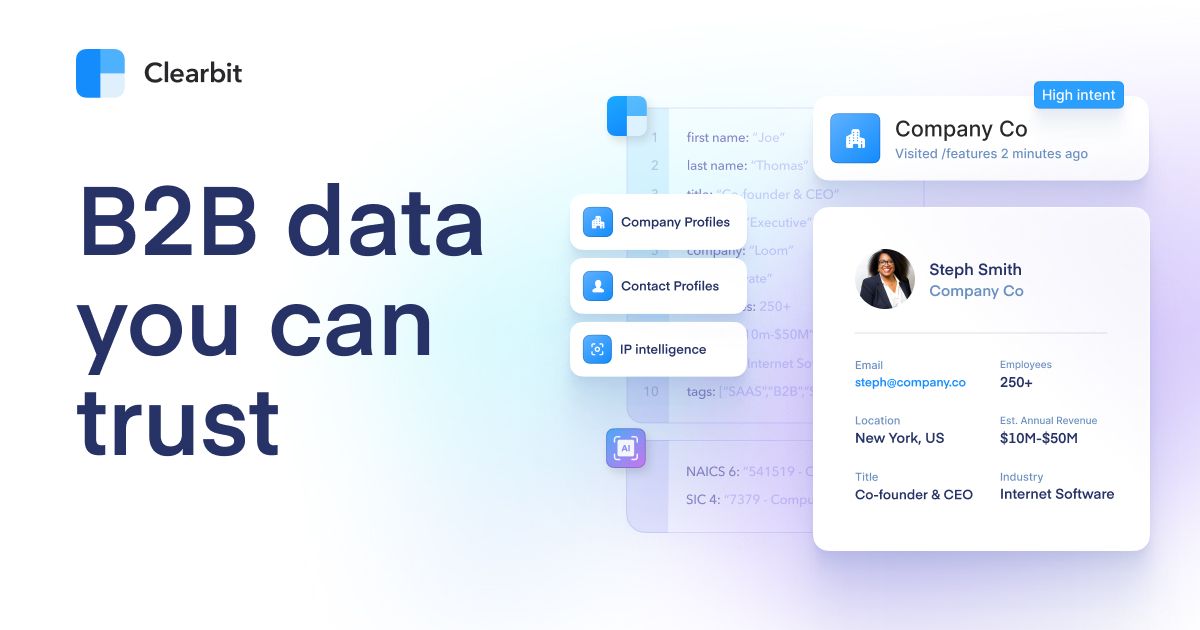 Clearbit's database consists of US and European contacts. It is widely used by salespeople for API lead boosting and improvement. Its impressive optimization and automation strategies help reps cut down time and polish off those high-value prospects, driving more sales.
G2 reviews praise Clearbit's direct integration feature with Salesforce, and point to increased productivity thanks to automated updates of outdated lead and account record data.
8. Apollo.io
Apollo, a US based sales intelligence solution, is regarded as one of the best prospecting tools for its sheer amount of data and profiles (over 220m contacts and 30m companies!), high accuracy and very intuitive user interface.
The detailed and hyper-specific data attributes it provides allow for an exact and on-point lead targeting – a key aspect in its high ranking among G2 reviews, which don't fail to mention the valuable time Apollo helps marketers save.
The software has a Chrome extension and is GDPR and CCPA compliant.
9. LeadIQ
A US-headquartered B2B sales prospecting tool, LeadIQ makes it their goal to rid salespeople of the burden of meaningless, insignificant tasks that only serve to waste time – and ensures a smarter, more efficient way to prospect instead!
LeadIQ outdid itself with its simplicity and ability to identify and secure leads, according to G2 user reviews, with its LinkedIn Sales Navigator lead capturing capabilities being especially effective.
This tool is also applicable as a Chrome extension and is CCPA and GDPR compliant.
10. SalesIntel
SalesIntel is a US-established B2B prospecting tool with the mission of providing its users with verified, up-to-date prospect data. To ensure best results, every direct dial number and email is tested and repeatedly verified every 90 days.
This tool stands out among others for its intent data, as provided by Bombora, the leading contributor in the department, and for its speedy and well-organized customer support system.
11. Seamless.ai
Seamless.AI has one of the best user ratings for its outstanding ability to gather leads with the help of artificial intelligence and plentiful potential customer data, which helps you hit the nail on the head with your qualified leads every time.
It was stressed by G2 users that the software has an impressively large SMB database in comparison to ZoomInfo and guides leads to coast through the generating process with absolute ease. Seamless, however, largely specializes in US regions.
12. Outreach
Outreach aims to provide your team with the tools it needs to thrive in the marketplace – from easy integration with many other platforms, such as the aforementioned Closely, Cognism, ZoomInfo and Salesforce, to handy multifaceted data readily compiled in an easy to analyze and target lead or company profile.
In addition, a lot of people also put emphasis on the usefulness of Outrach's email templates.
Outreach is global compliance accredited, has a Chrome extension and utilizes Bombora intent data.
13. LinkedIn Sales Navigator
A classic component of a salesperson's tool kit, LinkedIn Sales Navigator is a trusted sales workflow enhancer, giving users the possibility to create lead and account lists.
However it is commonly used alongside other marketing tools as InMails commonly suffer from poor response rates.
G2 reviews often mention the overwhelming functionality of Sales Nav's search features.
14. DiscoverOrg
DiscoverOrg is a ZoomInfo company that delivers the ideal leads to you based on relevant data sourced from various platforms and diverse prospect groups with the goal of B2B sales optimization in mind.
DiscoverOrg offers a relatively similar functionality package to its holding company, though, unlike ZoomInfo, which provides bidstream data, DiscoverOrg deviates from this with the convenient provision of Bombora intent data.
15. Lead411
Lead411 has a whopping 450m contacts in store along with 20m global companies. Many G2 reviews praise this tool's exceptional lead quality and price point. The platform has a Chrome extension, is CCPA & GDPA compliant and has useful bidstream intent data.
16. Sales Leads
Sales leads is a sales intelligence tool designed to make your business bloom by ensuring accurate lead evaluation and qualification – users only get to see verified leads, which boosts productivity and streamlines the sales process tremendously. The company's data undergoes thorough verification by their data researchers or via brief phone interviews.
17. Lead Forensics
Lead Forensics opens up the gate for your business to reach qualified, engaged leads most likely to make a purchase in real time. This platform promises almost 100% accurate inbox response verified emails and claims to have the most direct-dial numbers in the whole industry.
This tool has garnered commendation for its exhaustive insights on website visitors, as mentioned on G2.
18. Ricochet
Ricochet, a Cognism subsidiary, is a tool available as a Chrome extension with the sole purpose of identifying sales leads, gathering B2B information and useful prospect data.
It is able to integrate with HubSpot, which serves to conclude whether a deal is already in your pipeline.
19. Bombora
Although its intent data is available through many tools in this list, such as SalesIntel, Outreach, Cognism and DiscoverOrg, it is also worth it to consider whether you'd like to purchase the software itself.
The tool allows you to get the most out of your sales workflow and campaign by pairing your team up with high-value leads and companies who would be interested in your services.
Achieving great results fast and connecting loads of other MarTech is possible thanks to Bombora's all-spanning integration options. The program is considered to provide a great user experience and is CCPA and GDPR compliant.
20. Leadfeeder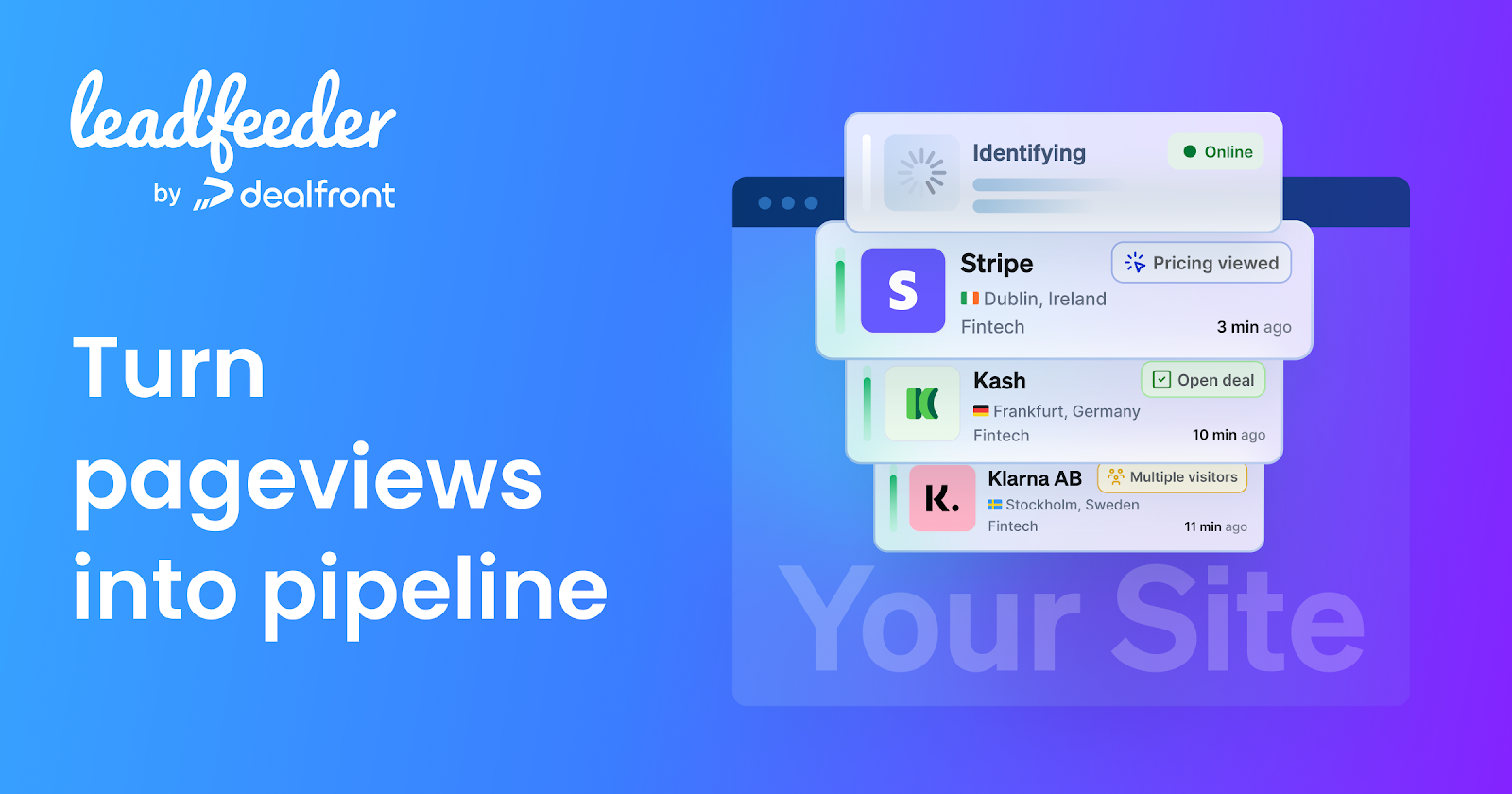 Its intent and benefits are closely tied with those of Lead Forensics, showing insights about how visitors found your website and various data attributes of those users, such as what they're interested in.
It identifies the names of companies who visit your website and seamlessly integrate your sales data. G2 reviews praise Lead Feeder for its versatility.
It also helps sales teams adjust their messaging to prospects depending on where they stand in the conversion process. This specialized tool shows its true potential when used in combination with other B2B tools such as ZoomInfo or Cognism.  


In Conclusion
Now that you and your team are equipped with the knowledge of some of the best B2B prospecting tools on the market, it's going to be easier to choose the right one for your desired goals.
It should be kept in mind that every software has its specifics and distinct features that can help you lead your workflow one way or another, so with an evaluation of your company's needs you will be able to more precisely pick out the software that fits best.
The benefits salespeople reap by using sales intelligence tools cannot be overestimated – they have proven a fundamental asset for an efficiency-conscious leadgen team. Absolutely vital features such as phone-verified data, global compliance intent data provision and multi-platform integration are all designed to make user experience and team task accomplishment as time- and cost-effective as they can be.